Our 3 Cs

Investing within the broader chemicals industry is our only business. Our singular focus and specialization are key differentiators. We seek to create value where others do not see an opportunity. We thrive in complexity; regulations, politics, and complex processes draw our attention as areas where we can apply our operational and management expertise. Our unparalleled access to capital, deep industry connections, and operational and management capabilities are why you should partner with us.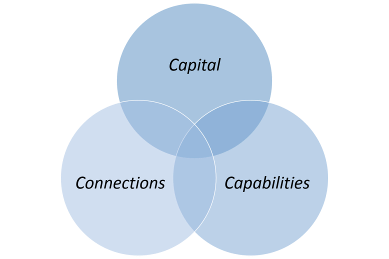 Capital: All investors have access to capital. However, each firm is unique, including in the span and flexibility of its capital. Our capital is both patient and stable, giving us the ability to hold investments for a longer period of time than most private equity firms and allowing for more flexibility as well as creativity in terms of deal structure.

Connections: Over the course of the past several decades, we have accumulated a vast and unparalleled global network of relationships whom we have come to trust and vice-versa. Our deep industry backgrounds give us access to a remarkable bench of high-valued connections across various segments of the chemical industry. These relationships and connections share our vision and values and are invaluable resources in the successful implementation of our sector specific growth strategies.

Capabilities: We approach each investment with an operational mindset. Our partners have accumulated extensive executive experience at major chemical companies and understand the opportunities and challenges that our portfolio companies face. While traditional private equity firms look to the outside for their operational guidance and resources, our industry specialized backgrounds allow us to understand the operations as well as the business fundamentals of a company from the ground up and institute changes directly with speed and certainty.